You'd agree that only the best router for Mac can let you get the most value out of your device. If you have macOS, you should be choosing between the best WiFi routers to ensure top internet speeds, and that's the trickiest part.
These days we see loads of products, including high-speed routers, making it almost impossible to choose the best router for Mac. Furthermore, it has become much more complicated since Apple stopped manufacturing iOS pro routers like the AirPort Extreme.
However, never fear: we've got five of the best router models that promise to deliver seamless internet connectivity and speed.
Best Routers for Mac Reviews
Without further ado, let's find out which of these WiFi routers meet your list of requirements.
As the best router for Mac, the Linksys Tri-Band Router offers some fantastic features, so it sits right on our list. Let's find out why.
The Linksys AC-5400 Tri-Band Wifi Router offers an industry-leading WiFi coverage of up to 3000 square feet. Backed by MU MIMO technology, it supports more than 25 connected devices, ensuring smooth and seamless speeds for all of them. Eight high-gain antennas ensure this high-speed performance.
It measures 14.29″ x 5.39″ x 11.73″ and weighs 3.25 lbs. Apart from the eight antennas, there are eight ethernet ports and two USB ports. The router offers a tri-band frequency, which is equivalent to three WiFi bands. Max-Stream AC5400's WiFi speed can reach up to 5.3 Gbps, which is more than enough to ensure seamless 4K streaming or high-resolution gaming.
Along with powerful WiFi, this Mac router features beamforming technology, making sure that each connected device receives the same speed as the others. The powerful and smooth operation is made possible due to the presence of a 1.4 GHz dual-core processor, which allows managing multiple HD streaming and gaming across all connected devices simultaneously.
In short, the Linksys Max-Stream AC-5400 is a great router for Mac that is also compatible with other latest operating systems. With features such as massive coverage, seamless WiFi connectivity, fantastic speed, and continuous streaming, this one is a strong contender to host your home WiFi.
Pros
Support 4K HD streaming across multiple devices
Compatible with Windows, iOS, and Android
Jaw-dropping WiFi speed
MU MIMO compliance
3000 square feet coverage
Cons
Broad and slightly bulky for a router
Lacks additional network security
Second, in our list, you'll find the best wireless router, which has to be the Netgear Nighthawk R7000. This one is a reliable router that has everything you need.
Design-wise, the R7000 Nighthawk is a horizontal router that may be a little bulky for you. It features three high-gain antennas with a rotatable base so you can set their direction according to your requirements. Although the R7000 takes up more space than an ordinary router, it makes up for it big time.
You get four Gigabit Ethernet ports along with one USB 3.0 port. This router for WiFi connects to the OpenVPN Connect app and gives you remote access to your network. One of the best features of this Mac router is voice control.
If you have Amazon devices, you can use Alexa to control them. As far as security and accessibility are concerned, this router backs you up with WPA2 wireless protocol support. It offers firewall, DoS, VPN, as well as guest WiFi access to the network.
Not only that, but you can get a paid subscription to prevent malware and virus attacks on your Mac via your Netgear Nighthawk WiFi Router. Setting up this MU MIMO router is relatively easy. Apart from the 1900 Mbps speed, there are some exciting features, as discussed below.
If you're concerned that too many devices would affect your internet speed, don't worry. This WiFi router for Mac comes with a 1 GHz dual-core processor coupled with a Beamforming+, ensuring high-power antennas. It'll work efficiently with up to 30 connected devices.
If that wasn't enough, you'd also get this ReadyShare Vault as an automatic backup to the USB 3.0 port. And finally, to remove your top concern about bandwidth consistency on your Mac, the R7000 offers a dynamic QoS, which lets you prioritize the devices that will receive the best bandwidth.
Pros
Easy to set up
Alexa to control Amazon supported devices
Connects up to 30 devices simultaneously
Beamforming+ technology
OpenVPN Connect
Guest access
Cons
Security options are not free to use
Are you looking for the best router for Mac that lets you play online games? Well, the ASUS ROG Rapture AX11000 WiFi Router is a perfect choice.
The ROG AX11000 is a beast, and it's designed for power and high performance. It has a large and spacious design that can be a turnoff if you're not into gaming. It's too large for a router complying with MU MIMO technology, but it can handle anything thrown at it. Unlike most routers, this one features eight high-performance antennas.
This Wireless router offers a jaw-dropping speed of 11000 Mbps and features a 2.5 G gaming port to ensure top-notch performance. The ROG Rapture GT-AX11000 offers a gaming center interface, allowing quick and smooth setup. As for connections, it supports wired, wireless, or USB.
Since it's a WiFi router, this model is compatible with all Next-gen WiFi devices and existing devices. As far as Bluetooth device support is concerned, it supports modern Bluetooth technology. You'll enjoy whole-home coverage thanks to the high bandwidth.
To ensure consistency in speed, the router features a 1.8 GHz quadcore processor, which also renders maximum possible connectivity to Bluetooth and WiFi devices. This powerful router for Mac has a fantastic frequency of 5 GHz
As for the memory unit, this router features 1GB of RAM and 256 Mb flash memory. Moreover, it offers ASUS AirProtection security to protect your device and network from any unanticipated internet threats.
The router weighs a touch over 4 pounds and offers four Gigabit Ethernet ports.
Pros
Triple-level acceleration for a trouble-free gaming experience
WiFi speeds up to 11000 Mbps
Next-gen WiFi compatibility
AirProtection security
8 powerful external antennas
Designed for gaming or large homes
Cons
Among budget-friendly Wi-Fi routers, the TP-Link AC1900 Archer A9 is probably the best, as it boasts the great speed, device connectivity, and WiFi coverage. It fits perfectly with your idea of a home router, only more aesthetically appealing.
You'll be surprised to know that the Archer A9 offers 5 GHz frequency, which is fantastic for any dual-band router. As it is a Wave 2 Wireless router, its Wi-Fi speed on the 5GHz band can reach up to 1300 Mbps, while on 2.4GHz, it's 600 Mbps. Additionally, the data transfer speed is 1900 Mbps.
If you're concerned about the lack of speed on different devices, don't be. The TP-Link AC1900 is backed by MU MIMO technology to ensure the same speed across all connected devices. And there's one more benefit.
This dual-band router comes with Alexa voice control, allowing you to control all Amazon devices simultaneously. This feature isn't ubiquitous among dual-band wireless routers.
Moreover, you get exceptional network security with this router. It offers many security features, including guest Wi-Fi, VPN and WPA3, parental control, access control, etc. With Smart Connect Technology, you always get the least congested channel, while its Airtime Fairness feature ensures lag-free streaming.
The internet modem router offers a Gigabit WAN port, four Gigabit LAN Ports, a USB Port, an on/off switch and a power button at its back. Although you can connect different devices simultaneously, we recommend not connecting more than two devices at the same time for optimal speed.
Pros
Award-winning Mac router; best for home network
Offers network security
Ensures high-speed streaming to two devices
MU MIMO technology
Smart Connect and Airtime Fairness features
VPN server
Cons
Dual-band modem router
Limited connections
It's good that you have a Mac, but which router should you choose if you want extended coverage? Our next pick might be the model you're looking for.
The Google Nest 2nd Gen Wi-Fi Router is one of the latest mesh systems designed to blend into your home interior seamlessly. The primary purpose of the design is to ensure extended coverage throughout your home network.
In a large, spacious home, you probably need two or more points to achieve the required coverage. Taking this into account, the Google Nest WiFi router offers small issues that can easily be hidden within your home decor. That way, it counters the need for more than one wireless router.
Each of these access points boasts two ethernet ports, all of which are Google Wi Fi-compatible. This setup lets you connect wired devices to those points and make them part of your home network. Now, you're probably wondering how much coverage each point offers. In simple words, how many points should you install to ensure a large enough home network?
The Google Nest Wireless Router offers two access points in one package. In turn, these two points provide network coverage up to 4,400 square feet, which is sufficient for small to medium single-story homes. In terms of connecting various devices to the network, the Google Nest is probably the best router around.
The Wi-Fi router can host up to 200 devices at one time. You can also 4k-stream on multiple devices simultaneously without having to worry about lag.
Pros
Extended coverage of 4,400 square feet
200 devices can be connected at once
HD streaming capability
Attractive design
Cons
The wireless router requires a broadband internet connection to work smoothly
Data transfer rate is lower than dual-band Wi-Fi routers
Best WiFi Routers for Mac: Buying Guide
Now that you've reviewed the best wireless routers, you've got an idea of features and capabilities the latest models offer. But that's not all. Their functionality and features should match your requirements too.
Factors to Consider
So, what factors should you take into account when determining the perfect router for your Mac PC? In the following sections, we've listed some key factors. Here are our 2 cents:
The Internet Package
Ideally, a wireless router should give you the exact speed it's promising. The reality can be different, however. The internet package you're paying for poses limitations to your routers' capabilities. So, what can you do about that?
Simply put, you have to choose the router that matches the speed promised by your internet provider. Anything beyond that will not only be useless, but you'll also be paying more and getting less speed in return. Besides the speed, make sure to optimize the device connectivity and other features.
Home Size
Another critical factor is the size of your home. Ensure that the router for Mac gives you sufficient space to establish a network that covers your entire house. So, don't only consider the square feet a router covers.
You also have to consider solid objects – furniture, appliances, utensils – that obstruct Wi-Fi signals, causing fluctuations in speed and limitations in connectivity. Your Mac router should generate strong signals to overcome these issues. The high-performance routers listed above offer substantial network coverage for smooth data transfer across all connected devices.
Connected Devices
This is the leading cause of slow speed as well as security threats. While choosing the best router for your Mac, make sure it accommodates various devices simultaneously. Some routers can accommodate no more than three connected devices, while high-end models can host 50 or more devices.
Therefore, it is vitally important that you count all your devices beforehand. This way, you can choose the best router not only for Mac but also for other devices.
Security Features
You don't want your Mac to be hacked by some vigilante, do you? Therefore, it's crucial to consider network security and threat protection features in a router. It also depends on the nature of your work. For editors, data analysts, developers, bloggers, and gamers, a security breach could lead to unbearable financial losses.
Typically, home routers offer several protection features, such as Parental Control, Firewall, VPN server, and more. On the other hand, a high-end model can give you protection against malware, guest IP access, and many other benefits.
Performance Features
Modern routers boast different functionalities and features to lure end-users. You can buy a wireless router that lets you manage other connected devices through voice control. But you can't control your Mac with Alexa, can you?
Similarly, other features such as MU MIMO technology, QoS, VPN Connect, Beamforming, and more. All you need is to think about which performance features are necessary for you, and from there, make the right decision.
Compatibility
Compatibility is numero uno. Suppose you've bought the best wireless router without ensuring that it is compatible with your Mac, iPad, and iPhone. Will you be able to establish a WiFi network?
Choosing the right network tool is vital, especially when it comes to iOS-supported devices. Ensure that the router you chose is compatible with the operating system and other system configurations of your Mac device.
Setting Up a WiFi Router for Mac and iOS Devices.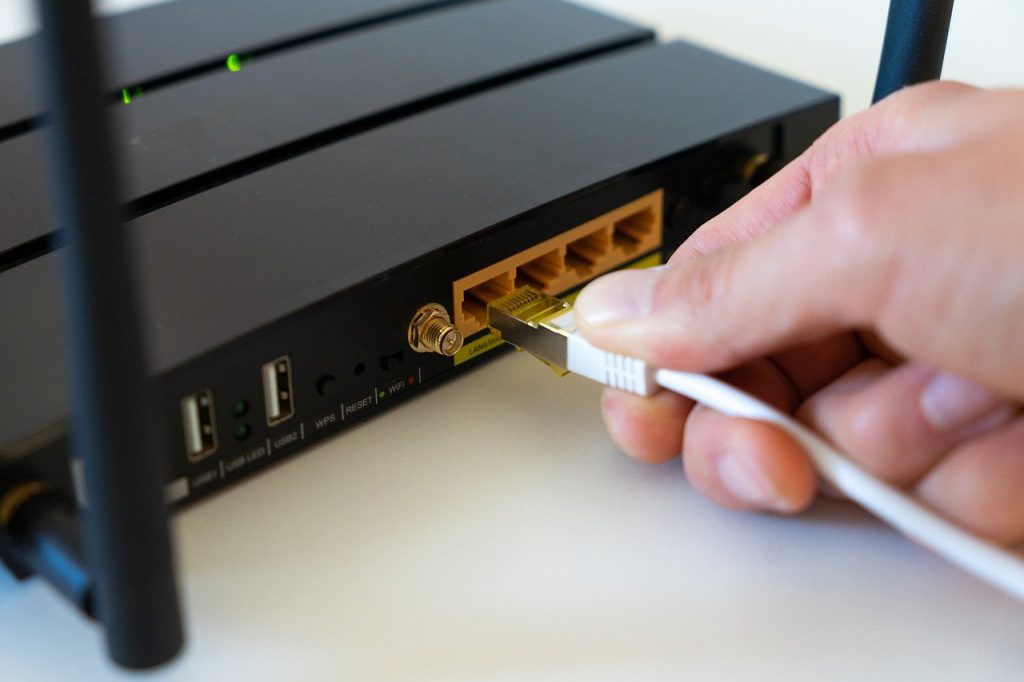 Even if you're setting up a WiFi router for the first time, the process is not as complicated as it appears. Follow these steps:
Step 1: Make sure your existing modem has been disabled
Step 2: Connect your modem to a Mac-compatible router
Step 3: Switch on your Mac computer and the modem. Wait for them to start.
Step 4: Use an ethernet cable to connect the modem to the Mac PC.
Step 5: Open the Mac browser
Step 6: Insert the WiFi router's IP address
Step 7: Enter your username, your password, and apply settings. You'll see the network icon on the main screen.
Step 8: Right-click on that icon and establish the connection between the Mac and the router.
FAQs
Q: What is the best WiFi router for Mac?
The models listed above are the best routers available as they are compatible with the latest Mac devices. Also, they serve different purposes, with some offering more benefits than others. However, if you want a definitive pick, the best all-rounder router for Mac is the NETGEAR Nighthawk R7000.
This router for Mac offers speed, multiple device support, and lots of functionalities to end-users. The router allows simple data transfer, online gaming, and HD streaming. Moreover, it accommodates a large number of devices without compromising on speed.
Q: Is the Apple AirPort Extreme still a good router?
We have already mentioned that Apple discontinued AirPort Extreme back in 2017-18. Since then, we have seen gradual improvements in devices and networking tools. Most modern routers support the latest versions of Apple's operating systems. You won't find that level of technology or compatibility in the Airport Extreme.
Q: Is the Apple AirPort Extreme outdated?
To be honest, it's not. It still offers device compatibility with older versions. That being said, it cannot match the needs of the latest Apple devices. So, if you have an updated version of Mac, you should be thinking about AirPort Extreme replacements, including the ones we've listed above.
Q: What router should I buy in 2020?
This depends on your personal preferences, which you can use to choose between the router models listed above.
If you want to see more options, you can visit Amazon.com to learn about different products and buy them online.
However, before making the final decision, we recommend that you consider all the factors above, and weigh your requirements vs. the features offered by each of the routers. The best routers should:
Meet the speed of your internet package (at least)
Be compatible with your computer and other devices.
Offer ample coverage
Accommodate multiple connections (as many as you have)
Be able to switch your device to the least congested channel.
Protect you from online virus attacks and malware
Have connectivity ports to connect the latest devices
Fit your budget
Conclusion
Finally, we have concluded.
We hope that this guide helped you to find the best router for Mac. Whether you're keen to save a few bucks, want something that blends well with your living room, or visited just to learn a few things about home routers, this guide has something for everyone.
Not only that, but we did our best to shed light on every aspect and detail a buyer should keep in mind while buying a WiFi router. But if there's anything you think we haven't covered, don't hesitate to mention it in the comment section below.
Which of the above models fits perfectly to your requirements?
Have you found this post interesting?
Do you know any other router for Mac that should be on this list?
Let us know!
About Our Reviews:- Macdentro.com is a team of consumer advocates committed to bringing you accurate, non-biased reviews on all tech products. We also analyze customer satisfaction insights from verified buyers. If you click on any link on Macdentro.com & decide to buy it, we may earn a small commission.