Wouldn't it be awesome if you get Geometry Dash for Mac? We know, this itchy question might ignite your emotions, but you've got to accept the reality.
For all those Mac users cum gamers, what's frustrating is that they can't access most of their favorite games through their favorite devices. That's because of Apple's "God Knows What" limitations, there are games on AppStore, like Geometry Dash, that are available for iPhone and iPad, but not for Mac.
We've got questions here, but before that, let's find out what Geometry Dash is and why people around the world are so crazy after it.
Geometry Dash
Seeming like a fun little game, geometry dash can have you tear your hairs apart in no time. It is the creation of RobTop Games AB and currently ranks #3 in the music category on AppStore.
Geometry dash is a rhythm-based action platformer that is, according to some users, so 'Frustratingly Wonderful' that you'll leave it in hair-tearing frustration, but will "come back for more".
This intriguing game offers near impossible tasks and spiky obstacles. You're supposed to fly and flip your way out of the danger. As you proceed to the new levels, obviously, your jump fly skills will be tested to extreme limits.
While moving through dangerous passages and spiky challenges won't be too easy, you'll be playing the game for hours. This rhythm-based action game offers a never-ending variety of seemingly impossible challenges and each level has its unique soundtrack. But that's not it.
It lets you build customized levels through the level editor. As you move up game levels you'll find new icons and colors to develop your character. To sharpen your skills. you can try Geometry Dash's practice mode and prepare yourself for more near-impossible challenges.
To download geometry dash on your iPad or iPhone, you need a space of 97Mb and the right compatibility. Geometry dash download requires iOS 8.0 and above. If you want a lighter version, there's Geometry Dash Lite with 72.5Mb space.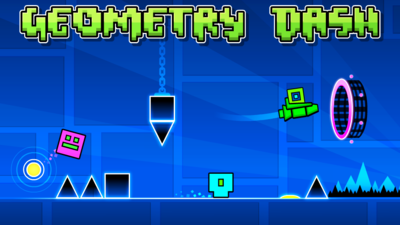 Can You Get Geometry Dash on Mac?
While AppStore doesn't have this game for Mac, you can still download Geometry Dash on Mac.
Direct Download
Simply use this IPA address to download the game on your PC for free:
geometry dash whited00r_tested.ipa
In most cases, the link doesn't work directly but don't worry. Simply type the address on your bowser's search bar and it will show you different sites that offer free downloads.
Go to RobTop Games page carrying all the information related to this game, including the download option. Click the download tab and install Geometry dash for Mac.
Remember that this is the 2.11 version, not the latest one.
Download the Game on Steam
Steam, a game hub, offers a plethora of PC paid and free games. You can buy this rhythm based action game but before that, you need to create your account on Steam.
Here's how you can download and install Geometry Dash for Mac:
From the Launchpad, open the Steam App and log yourself in
Go to Store and enter the keyword Geometry Dash in Search.
You'll see different games with similar names appearing on the list. Click on Geometry Dash icon
Choose to Add to Cart option then hit Purchase
Then choose your payment method and click Continue
To begin downloading Geometry Dash, click the purchase button in the new window.
Wait till the download completes.
After getting the download complete notification, open the Account Library where you'll find the game.
Simply, click Install. It'll take just a few minutes to install on your Mac.
Can You Play Geometry Dash Game on the Computer?
Yes, you can download the game using the downloadable link mentioned above. Geometry Dash can be installed on all modern computers. Just make sure that it's compatible with the computer you're using.
Is Geometry Dash 2.2 Out?
Geometry Dash 2.2 was supposed to hit the market back in October 2019, it hasn't been released as yet. According to unofficial sources, this version is expected to release on Christmas 2020. As for the delay, Rob Top said that the release was delayed because the small update they referred to went on to get bigger with time.
They haven't the real cause of the delay. Meanwhile, we are seeing some hacked versions such as Geometry Dash World, Geometry Dash SubZero, and Geometry Dash Lite, etc. that utilize features of the 2.2 version. These hacked versions are available on GooglePlay, AppStore, and other gaming platforms.
These versions give some clues. For example, the 2.2 version has camera triggers, like Static Camera. Another confirmation is that the 2.2 version will have no object limit, unlike the existing version. In the current version, there is an object limit as you jump.
While we still wait for Geometry Dash 2.2, there's Geometry Dash version 2.12, which is the latest official version launched in 2020. This version is meant for Windows PCs, not for Mac.
Conclusion
It is possible to play Geometry Dash on Mac. You can either download it directly or visit a gaming platform to purchase it. Geometry Dash 2.2 is yet to be released, however, there are hacked versions that give us some clues on what will be there in that version for the taking.