Do you want to remove the split-screen on the iPad? If Yes, this is the right place where you'll find all the answers. Not only will we share how to remove split-screen on iPad, but you'll also learn about getting rid of split screens on the iPhone.
Split-screen on iPad or iPhone is a handy way to multitask. However, there are times when you don't need this feature on your iOS supported devices. In this article, we'll show you how to use split-screen on iPad and get rid of it (when you don't need it) by simply disabling the feature in the Settings in your iPadOS.
Those of you looking for tips on turning off split view on iPhone, this post has got answers. But before that, here are some considerations.
iPads that Support Split View on iPad iOS 13
Do you have a 5th generation iPad? Or is it an iPad Pro, iPad mini 4, iPad Air 2, or any other 5th-gen or later model? That's because iPad models earlier than the 5th generation don't support a split-screen view. Also, if you have iPadOS13 on your tablet, it'll support split view; otherwise, check whether you can upgrade it to get that feature.
iPhones that Support Split View on iOS 13
iPhone 11 Pro Max is the only model that offers a split-screen view. The split view only works in the landscape mode.
Difference Between iPad Screen Split and iPhone Split View
iPad and iPhone have different functionality, and so as the split-screen operations on these devices. If you're using an iPhone, you need to turn your phone to its side. That'll automatically activate the landscape mode, which will enable you to allow the device to display more content on a single screen.
Apps like Calendar, Mail, Stocks, Messages, Reminders, Contacts, Clock, Settings, and Voice Memos use the split-screen feature, providing more information in one place. However, you can't use it to work on two different apps as the iPhone doesn't support multiple apps on one screen.
On the other hand, iPadOS allows you to open more than one apps and work between them simultaneously. Here, the Spit View feature can be more than handy. You can open multiple apps and run them using the Split view. For example: running the Safari app on one side and taking notes in the Notes app on the other side will make you work efficiently.
Anyhow, in both the devices, you can turn off the split-screen feature.
How to Turn Off Split Screen iPad
On the iPad, the split view is enabled by default. How can you utilize this feature? Simply drag and drop any app available on your dock to the vertical edges (right or left edge) of your screen. It'll automatically open the on that portion.
If you have multiple apps running and you want to close one, simply drag the app divider over the app you want to close, to the edge. This way, you'll get a full-screen view of one app, while the other one's turned off. This trick is handy when you don't want to turn your Split View off or close the multitasking functions (in the Settings app).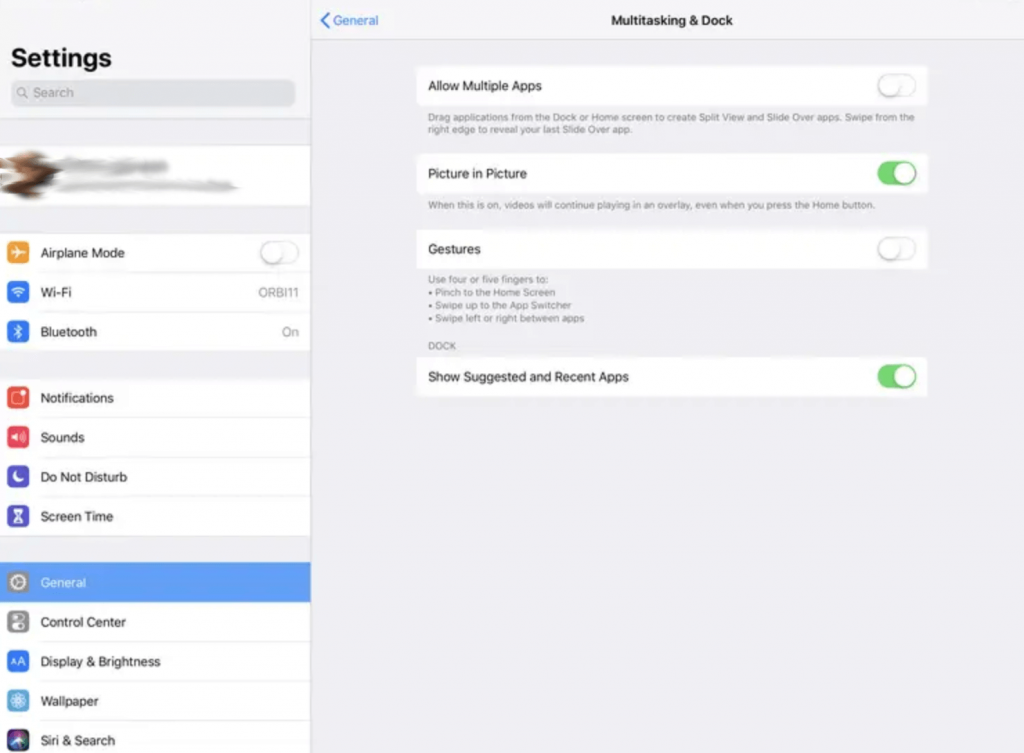 However, if you want to turn off the split view feature completely, you can do so by going to Settings:
Go to Settings on your iPad.
Tap on General.
Choose Multitasking & Dock.
Toggle off Allow Multiple Apps.
Remember, when you turn off this setting, you can't Slide Over or open the Split View on the iPad automatically. To use the feature again, you need to repeat the above steps and turn the Allow Multiple Apps option on.
How to Get Rid of Split Screen on iPad While Using Safari
Do you know? In iOS 10 and iPadOS, a new multitasking feature called Split View in Safari was introduced. This allows the iPad user to open two Safari pages separately and simultaneously. Have you tried this feature? here's a trick.
On your iPad, launch Safari and then switch to landscape orientation. This way, you'll be able to open another Safari tab in split-screen. Here are four ways to do it:
Ways to Open Safari Split Screen on iPad
If you're using an external hardware keyboard, press Command + N to open Split View
Tap on the Safari tab icon and hold it. You'll see two squares overlapping each other. Upon tapping and holding, you'll get some options popping up. Choose the option saying Open New Window.
With your iPad, tap on a link in the original webpage and hold it, till you see the message Open in New Window
You can also open the Split View by dragging a tab from its position to the right or left edge of the screen.
Getting rid of Safari's Split View
When you want to get rid of Safari's Split View or want to close one of the two windows, here are two options to do just that:
Option 1: You can drag the tab(s) in one screen to another screen. As soon as you dragged the last tab to the opposite edge, you'll see your Safari going full screen. That simply means your split view has turned off.
Don't only drag the link though. You have to move the entire tab to another screen so that it covers another tab. By dragging the link, you'll be copy/pasting it on the other side of the split-screen.
Option 2: Alternatively, you can follow the process mentioned above – tapping and holding the tab icon that seems like overlapping squares. The difference is, you have to choose the Merge All Windows when you see options popping up. This way, your Safari Split View will change back to a single window.
How to Get Rid of Split Screen on the iPhone
As mentioned earlier, the iPad split-screen lets you open and work with multiple apps simultaneously, but things are different in iPhone's Split View. It'll only give you extra space for more information provided by the same app. Although it's a good way, you can always choose to turn this feature off.
Let's quickly find out how you can get rid of the split screen on the iPhone.
While Using Mail
Mail's Split View lets you read the emails while scrolling down your inbox at the same time. And when you're done reading and searching, you can easily turn it off. Here's how you do it:
Want to see the open email only? Mail offers a full-screen icon on the upper right side of the email. Once you tap on it, the split view will disappear.
Alternatively, you can tap on the Inbox name, right there at the top left corner. And your split-screen will turn off.
Split View in Calendar
Calendar app's Split Screen shows monthly, weekly and daily schedules and upcoming events to prepare for. Split-screen is a must-have for this one. So, use it rather than turning it off. There's no way you can turn it off.
Split Screen in Messages
This one's pretty similar to Mail's split-screen, displaying your messages and the one you've just opened. As said, Split View activates in landscape mode, but it doesn't turn off as the Message app hasn't provided any solution for this.
To Turn Off Split Screen on the iPhone
If you want to turn off the split-screen on your iPhone, which includes all the instances, you can follow the steps mentioned below. But remember; you'll lose some other handy features as well – landscape orientation, extra buttons on keyboards, etc.
Go to Settings and choose Display and Brightness
Choose View
Select Zoomed and then Set. You'll be asked for confirmation.
Confirm Use Zoomed
You'll get a message saying that the iPhone wants to restart as you've made changes in the display.
Doing this will get rid of the split view in all the apps open whether you use your iPhone normally or in the landscape mode.