iPhone data backup can sometimes be critical because it saves your important data if your iPhone doesn't work. Likewise, in a matter of theft, or accidental phone loss, you will have your valuable data saved on a cloud service that you can later retrieve.
However, what do you do about a disabled iPhone? At times, iPhone users tend to forget their user passwords. Moreover, if they don't know how to back up disabled iPhones, it can become a mess with a locked iPhone.
So, how do you get a backup file from an utterly disabled device? Thanks to different Apple services like iCloud, iTunes, etc., it's pretty easy to back up disabled iPhones within a few minutes without needing to take them to an Apple store or alter the factory settings.
So, what will be your backup option? How to backup a disabled iPhone?
The methods mentioned below should help you back up your iPhone data when disabled.
Why is iPhone Backup Needed?
You may need to back up your iPhone due to several reasons. Typically, it happens when you want to refresh your phone and start again.
For instance, if you have a malfunctioning app and there is no other option left but to reset your iPhone, you will first need to go through the backup process to ensure the safety of your valuable data.
Likewise, experts often suggest a factory reset if your iPhone faces specific hardware issues. In short, you may need to reset your iPhone for any reason. Therefore, knowing why and how to back up data on your iOS device is essential.
Disabled iPhone Backup Tips
When you want to back up a locked iPhone, you need access to a few things. Firstly, make sure that you have a stable internet connection.
Secondly, you will need to access iTunes, iCloud, and an optional iOS assistant tool to safely back up iPhone data on the iCloud.
Also, you will need a computer and a USB cable for the backup process. So, download software for the backup process.
So, when you have gathered the essential data, it's time for your locked iPhone backup. So, here are a few worth-trying options.
Back-Up Locked iPhone with iTunes
iTunes lets you configure different settings in your iPhone when it is unresponsive. In addition, you can use your Apple ID to access iTunes and then configure any iOS device.
When you want to backup a locked iPhone with iTunes, several methods depend on whether your iTunes account recognizes the locked iPhone or not.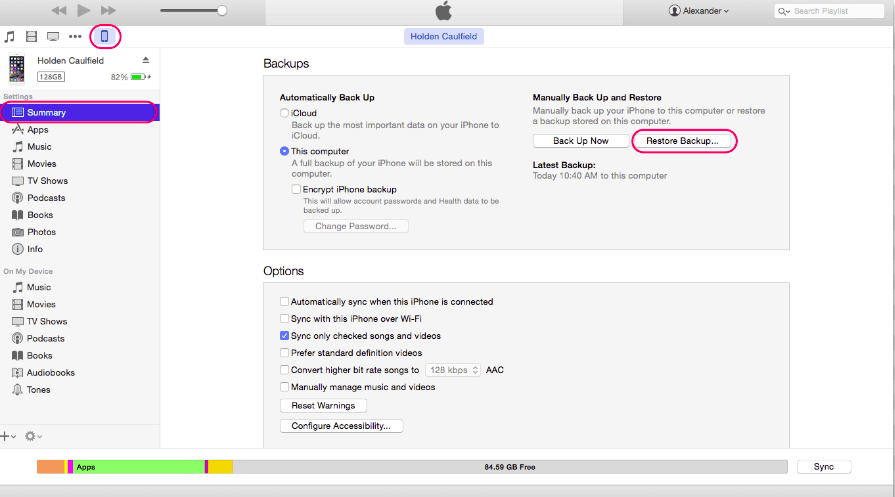 Here is the most relevant iTunes backup technique.
When iTunes Recognizes Your iPhone
Open iTunes on your computer and attach the iPhone to your system with a USB cable. When iTunes recognizes your iPhone on the main interface, it will show your iPhone name in the iTunes window.
Here, click on the 'Summary' option and then click 'Back Up Now. This method can backup your disabled iPhone data on the local disk. To ensure that, select 'This Computer' for the backup storage location.
Auto Sync Option in iTunes
It's also an excellent option to turn on the Auto-sync option in iTunes,
When iTunes Doesn't Recognize Your iPhone
If it's your first time connecting the iPhone to iTunes, the app will probably not recognize your iOS device. In this case, you will need an alternative approach to the previous one.
Now, you must remove the iPhone passcode without erasing your iPhone data. But for this trick to work, you must have enabled Siri in the locked iPhone. So here is how to proceed:
Press and hold and home button on your iPhone and wait until Siri appears. Now, ask for time and wait until Siri displays the clock image on the screen.
Click the clock image, showing you different options like World Clock, Stopwatch, Timer, Alarm, etc. Then, click on the timer option and select the 'when the timer ends' chance.
Now, scroll to the top of your ringtone list and select Buy More Tones. This will navigate your iPhone to the App Store. Here, you can click the Home button, and you should see the home screen and restore full access to your iPhone.
Backup with iOS Assistant
If your iPhone is disabled and the above methods don't solve your problem, you can go for a third-party iOS assistant. Here, you can try software like MobiKin Assistant for iOS. It scans data files from your disabled or locked iPhone without a password.
This software allows you to back up and restores your whole data or selectively backup specific files from your iPhone.
This software works on iOS devices like iPhone 11, x, 8, 7, 6, iPad Air, iPad mini, and many other devices.
Removing Disabled iPhone Passcode
Another great option is to remove the passcode from your disabled, locked iPhone. This is a handy option if you have forgotten your password. But it mainly depends on whether iTunes recognizes your iPhone.
Here is how to remove the passcode from your iPhone.
When iTunes Recognizes your iPhone
Connect your iPhone to the computer. Next, launch iTunes, and you should figure out your device. Now, back up your iPhone and then proceed further.
When iTunes asks for a passcode, go to the Recovery Mode. Now, go to the Restore iPhone option and set up your iPhone. Next, please select the appropriate backup size and delete it to complete the backup process.
Using Recovery Mode to Remove Password
To remove the password with the recovery mode, you can do it by the following process:
First, link your iPhone to your Mac or PC with the help of a USB cable.
Open iTunes. Please make sure you have the iPhone lock screen while it is connected.
Force restart your iPhone when it is connected to iTunes.
Press and release the Volume Up button to force-restart iPhone X, 8, or 8 Plus. Then follow it up by pressing and releasing the Volume Down button.
Then, press the Side button and hold it until the device opens on the recovery mode screen.
In the next step (when you're on the recovery mode screen), you will see the 'Restore' or 'Update' option in iTunes. Choose the restore option to start downloading the software to your iPhone.
Finally, when your download is completed, you can start and set up your iPhone as usual.
Important FAQs for Disabled iPhone Data Backup
A disabled iPhone is a severe issue. That's why there are many user queries regarding iPhone password recovery, data loss, backup files, and how to restore data from iPhone. So, here are a few common questions that users ask about iPhone data recovery.
Is It Possible to Recover Data from a Disabled iPhone?
It can be pretty challenging for users to backup data from a disabled iPhone if they have never previously backed it up on iTunes. However, if the users have previously had any data backup on iTunes or iCloud, it's possible to recover your data from a disabled iPhone.
Can You Backup the Locked iPhone without iTunes
If you want to backup a disabled iPhone without iTunes, there is an alternative option. It happens when you have removed the screen passwords. Once you do that, you can choose iTunes or iCloud to backup your iPhone data.
Alternative to iTunes
You can use different third-party tools to backup disabled iPhones without iTunes as an alternative option. For example, you can use the PhoneTrans app that allows a customized backup and restore iPhone data.
It works much like iTunes, where you need to open the app on your computer and navigate the interface to backup locked iPhone data on your computer's local disk.
So, while you can backup your iPhone with iTunes, other relevant iTunes backup options are also available.
Contact Apple Support
If you have tried every hack, but nothing works for your iPhone data backup, it's evident that the problem is beyond your control. This means that you are better off consulting the nearest Apple store.
Conclusion
A disabled or locked iPhone can be pretty troublesome, especially if you have important data inside your phone memory. That's why it's a good practice to backup iPhones regularly to avoid complications later.
But if you have somehow missed backup data on your iPhone, it's still possible to recover it. Whether you open iTunes or use third-party apps, an iCloud backup is pretty easy to achieve.
So, not only can you back up all the data from your iPhone, but you also unlock a disabled iPhone and use it for normal operations.