Whether you are a student or a writer, it's essential to regularly check the word count on Mac.
The following quick guide discusses different word count shortcut ways on Mac to facilitate your daily work.
You can use different applications such as Microsoft Word, Google Docs, or Pages to count words on Mac.
Why Count Words on Mac
You usually count words for the following principal reasons:
Word and page count matters, especially while submitting an assignment.
Publishers always count words because they pay on a per-word basis.
Counting words while writing serves as a motivation or a final goal.
Show Word Count on Mac
Display Word and Character Using Counter
When you edit or type a document on an editor, you can find a settings option on the top left corner in the toolbar. Here, you can see the option "Show Word Count" that reflects the statistics available on the menu.
The changes in count depend upon the previous preference. It's essentially a counter, which you can use to count the words and character with spaces.
You can find an arrow right next to the "Show Word Count." Clicking on the arrow allows you to display other counts such as characters, pages, or paragraphs.
Furthermore, the menu changes to hide character or word count if you initially opted to show the count.
How to View More Statistics
You can find an arrow on the bottom right side of the page. If you click these arrows, you can view other statistics, such as:
Character count with or without spaces
Total number of words
Paragraphs
Number of Pages
First, you need to select the statistics shown on the counter and choose the options in the counter menu. Now, you can move and drag the counter anywhere on the page. The next step is to hide the counter if necessary.
Use TextEdit's Find Function
You can use TextEdit's Find feature to estimate word count. However, it isn't an accurate method; instead, you can roughly estimate the word count.
You can open a document in TextEdit, go to Edit, and select Find twice or use the Command + F. It will then open the Find window.
You can click the magnifying glass and later select Insert Pattern via a drop-down menu. Now you can click on any word characters from the options.
The find function highlights the words and presents the word count on the right side.
Display Word Count on Mac with Microsoft Word
You can count words in Microsoft Word on Mac by selecting the Word Count under the Tools tab.
Moreover, you can add a personal keyboard shortcut to count words. All you need to do is go to System Preferences, then Keyboard, and click on Shortcuts.
Here, you can select App Shortcuts and type a menu command "Word Count."
Use Scrivener
Other than Microsoft Word, you can opt for Scrivener, a perfect tool to track word count. All you need to do is to go to Project and Show Project Targets.
You can see a popup message showing all the updates, including current selection and session target. Not only that, but you can also set the project target. Additionally, the word count remains visible at the right bottom.
Online Counting
You can also count the words of your document online using the website Wordcounter.net. All you need to do is to copy your document and past the words online.
You can check the word count, grammar, thesaurus, and other activities.
Show Word Count on Mac with Google Docs
Google Docs is another online platform that allows you to write and share documents online. You can check the word count on Google Docs by selecting "Word Count" under the Tools bar. Moreover, you can also set the command Ctrl + Shift + C.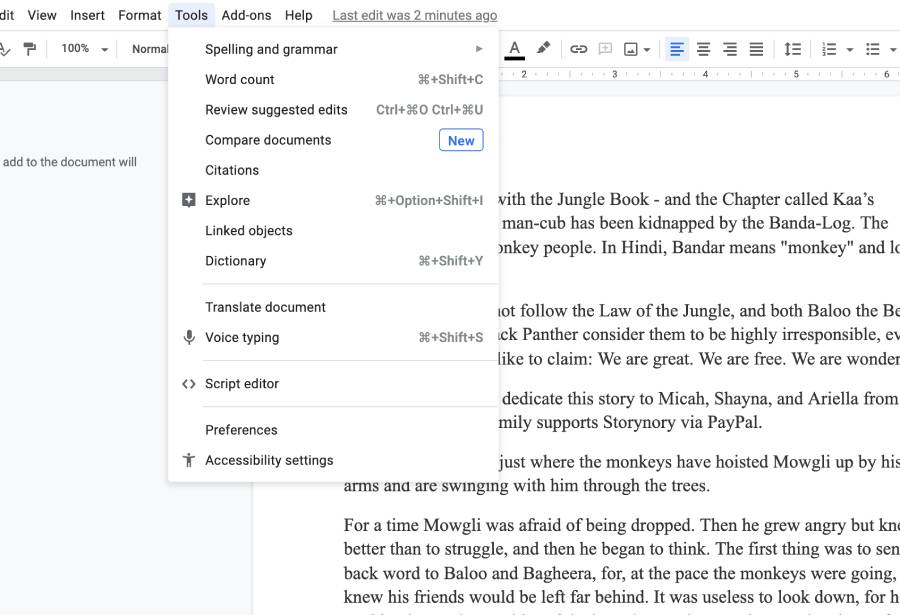 You can also click the option "Display word count while typing" to track the progress.
Conclusion
Word count is an integral part of any document. However, counting words on a Mac is a bit tricky. That's why we have presented you with all the available options and tools to count words while writing an assignment.