Reminders app is a unique iPhone software that may be a lifesaver if you forget appointments and other significant dates, such as anniversaries and birthdays.
Tags are a new feature in the reminders app, allowing you to organize reminders based on connected tags. However, several customers have claimed that the Reminders app no longer functions correctly after upgrading to iOS 15.
If you are also having problems with reminders not working in Apple's Reminders app, you need not worry!
How is this set up?
The most straightforward approach to avoid this complication is to decide when to update your devices and do it simultaneously.
Then, you should open Reminders on each device individually and update it to the most recent version.
When you run the application, a notice titled "Welcome to Reminders" will display, allowing you to upgrade now or later.
Do not set new reminders until all your devices have been updated and the app has been activated for the first time.
You may always see iCloud-stored reminders online in your iPhone option from the reminders widget.
How to create reminders?
There are three main methods for creating fresh reminders:
In the app Reminders app.
With Siri.
Utilizing the Share window inside an application.
With Reminders app
Open the reminders app from the reminders app icon and tap the list to which you want to add a reminder, or hit Add List to create a new reminder list. Next, hit the Add/New Reminder button, type your reminder text and tap Done. When you add a reminder inside the application, the fast toolbar is also accessible. Unfortunately, sometimes incorrect reminder notification settings end up making iPhone reminders not work in iOS 15.
Using Siri
Siri may be asked to set reminders. For example, if your home or office address is saved in Contacts, Siri will also recognize location-based reminders. You may even request Siri to "remind you about this" from another application.
Via the Share pane
You may set reminders from other applications. Tap the Share button and enter the note. On the succeeding page, you may specify priorities, add the reminder to a separate list, and choose the reminder's date, time, and alarm settings.
How to edit a reminder?
When reviewing your lists of reminders, a circled "I" will appear to the right of each item. Tap the item to make changes to the reminder app settings

The edit menu allows you to choose the day, date, time, and location of reminders. Additionally, you may enter notes and a URL and select priority. It is also possible to customize the timing and frequency of notifications.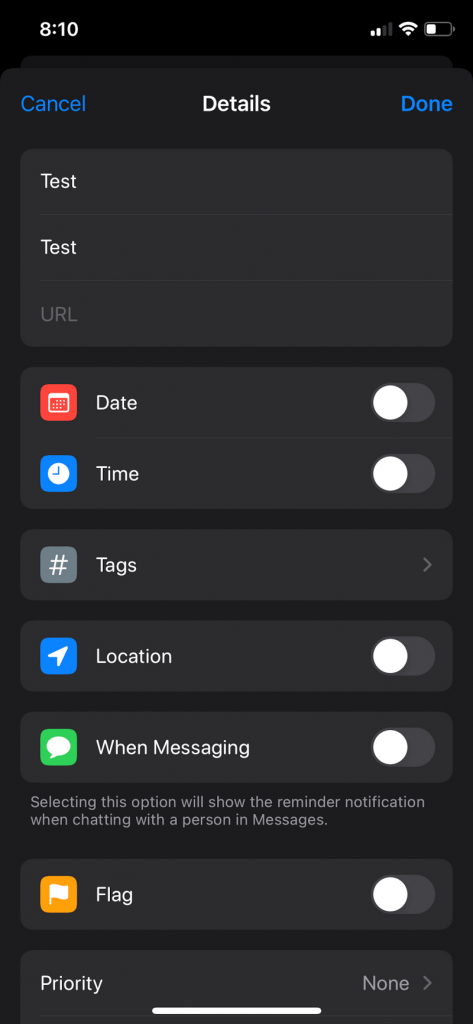 Why do reminders on iPhones and iPad not function?
Several reasons prevent reminders from functioning, such as disabled notifications, choosing a weak alarm tone, haven't upgraded your iPhone in a long while, etc.
Occasionally, the issue lies with Apple, such as problems with your Apple device. For example, sometimes, there can be a short interruption with iCloud s that services that prevent your iPhone from syncing new reminders, resulting in late notifications.
Whatever the problem is, the following strategies can assist you in resolving your reminders app trouble.
Check the iPhone's settings for reminder alerts.
If you or someone apart from you who can operate your iOS or other Apple devices has mistakenly turned off the reminder alerts, here's how to verify the proper notification settings:
First, launch the Settings app and hit the 'Notification' button.
From the inventory of all the available applications, pick Reminders.
Next, ensure that the option to Permit Notifications is on.
Enable Time-Dependent Notifications next.
Additionally, verify that reminders may appear on your Lock display passcode or the Notification corner.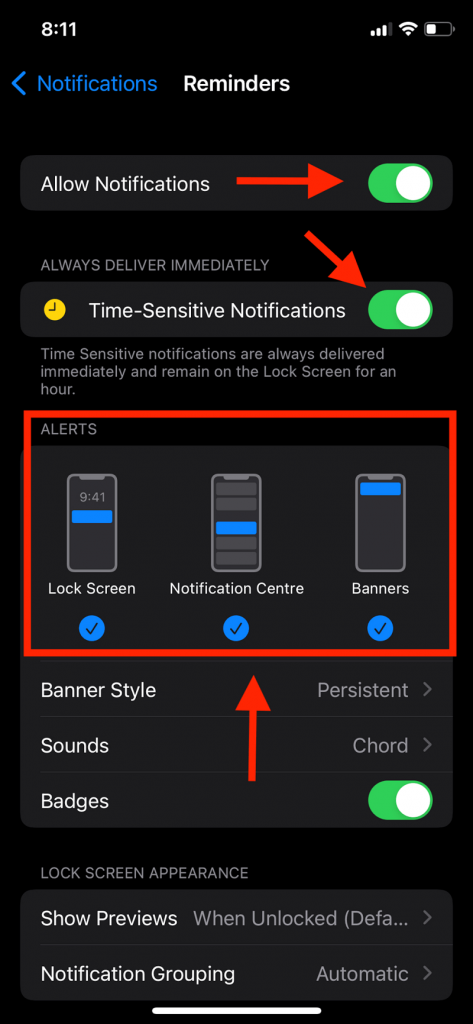 Activate Today's Notification settings
While creating a reminder, the option to provide a day and exact o'clock is shown. First, suppose you specified the date and not the time. Second, suppose you told Siri, "Remind me on Thursday to disburse my house rent," to remind you to pay your rent through the reminders app widget.
However, essential to add that whether one does not specify a particular hour and minutes on your reminder app, the IOS device will automatically evoke the memory of the time one has set the cue at about nine o'clock in the morning. This is by default.
Open reminder notifications, check notification settings and reinstall the reminders app if needed. Shut down Your iPhone and Restart it, click on the iPhone settings app and follow the following method to fix the iPhone reminder:
Enable Today's alerts
Optionally, you may choose ten in the morning and a time of your choice.
Follow this tutorial to resolve difficulties with the Reminders application. Therefore, without further delay, let's get started.
How To Fix Reminders Not Working in iPhone iOS?
1. Shut down Your iPhone and switch it back on
The first way is the simplest, yet it has been proven effective several times. Try switching off the iPhone by pushing the power button until "Slide to power off" appears on the display. Then, slide to power off, and turn the device back on after some time.
2. Turn iCloud Reminders on and off
Please turn off the iCloud application, then turn it back on to fix iPhone reminders. Eliminating reminders from iCloud can also eliminate certain notification issues; thus, this easy remedy is occasionally effective. Go to Settings app > Apple ID > iCloud > Reminders to do this. Turn off and then on the device.
3. Remove Reminders from Alert
Remove Reminders from the Widgets Screen Notification. To do this, scroll down from the top of your screen until you see the Edit button at the bottom. Press Edit, and you'll see a list of Reminders, then tap the "-" icon and choose Remove. No longer will the Reminder widget appear on this screen.
Next, you must ensure that Banners or Alerts are configured for your Reminders in the Notifications Settings app. After that, shut down your iPhone and restart it, which will resume normal notification behavior.
4. Resetting Your iPhone
You may reset your iPhone if the preceding three remedies fail to resolve your issue. This procedure will not delete any iPhone data. To reset all settings, go to Settings > General > Reset > Reset All Settings.
5. Upgrade to the newest iPhone or iOS device
When confronted with the iPhone reminders not working, many iPhone owners choose to update their iOS version. You may attempt to update the latest iOS or the new iOS device. It may resolve the issue without any effort on your part.
Your iPhone reminders not working in iOS 15 can be fixed if you remove the reminders app widget, check reminder app settings from the reminder app icon, and reset iPhone settings. You can also try deleting and installing the reminders app to fix iPhone reminders.
Suppose you lost data after upgrading to the most recent version of iOS. In that case, you might find options for retrieving it from the software glitches and unexplained iCloud glitches, including system files, Wi-Fi passwords, widgets notifications, and reminders app not working.
Conclusion
This concludes the discussion on how to resolve the non-functional iPhone reminders app. If you're experiencing this issue with your iPhone's reminders not functioning, you may try the following solutions to see if they can assist. You can contact apple support and iCloud sync to fix the reminders app not working.