In a technology-driven world, something is always innovative to ease humans' life. Whether catching a taxi or writing a quick thought, there is a software application for every purpose. Just like that, there are endless benefits of the notes app that many of us neglect.
Notes application is available on every device, from Mac computers to Android devices to iPhones. It's a great platform to capture and safeguard a quick thought and much more.
iPhone Notes App
From shopping checklists to password reminders, the notes app on iPhone is a great keeper of all our secrets. The iCloud notes have become an electronic or perhaps a modern diary for us. Instead of juggling through different pages, the iPhone notes provide excellent convenience and usability for countless purposes.
Moreover, iPhone users tend to gravitate towards iPhone's notes app to write anything without fear of it being leaked or validated by anyone. Then, however, unexpected trouble makes users frustrated and upset – Just like any other form of data, all the data, including files and notes folder present in the iPhone's notes app, can be lost.
As there are some important notes that a user cannot afford to lose, the foremost action is to find practical and easy ways to recover notes on your iPhone.
Things might go easy if you're lucky enough to have done an iCloud backup recently. But in rare cases, when a person accidentally deletes notes or forgets to enable iCloud notes backup, recovering deleted notes seems like going on a wild goose chase.
Fortunately, there are some helpful ways for both cases to let you retrieve deleted notes on the iPhone in no time. In this article, we've described some great and effective ways to recover deleted notes on iPhone.
Quick Ways for Immediate Data Recovery
Once you realize that your multiple notes or previous data in the notes app are missing, you can perform a few quick ways to increase the possibility of lost data recovery. They are:
Check the recently deleted folder
Go through iCloud or iTunes backup files
Check the Recently Deleted Folder
Every iOS device contains a "Recently deleted notes folder" within the iPhone notes app. If you think there are some missing notes or you might have accidentally deleted them, you can recover those notes from this folder.
This folder keeps all the notes you delete for only 30 days. Once the deleted notes on iPhone remain deleted for 30 days, they are permanently deleted from everywhere, including your Apple ID, cloud backup files, and iTunes.
Therefore, you can recover them from this folder to restore deleted notes that you've accidentally deleted. To do so, here is a step-by-step instruction on how to retrieve deleted notes from a recently deleted folder:
Open the Notes application on your iPhone
Click on the last dialogue bar named "Recently deleted folder."
There will be a list displaying all the recently deleted notes. Tap Edit from the right top corner

Select the notes you wish to recover
Tap on Move and click Recover to recover deleted notes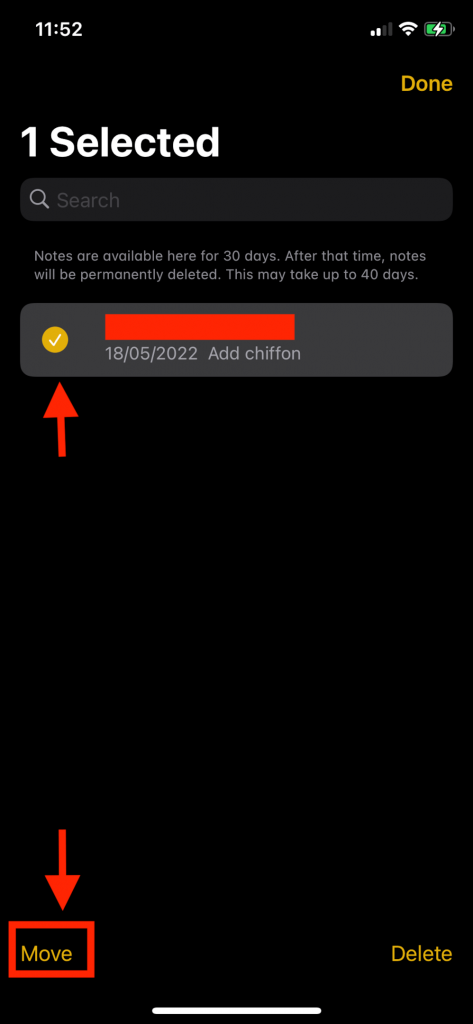 You can also select the folder to retrieve notes and recover data on your iPhone.
Go through iCloud or iTunes Backup Files
It's important to check whether the notes on your iPhone have been backed up either on an iCloud or iTunes. If the previous backup has successfully saved the data of the notes folder on iCloud or iTunes backup, you can quickly restore deleted files even if they were permanently deleted.
If the missing notes you're looking for don't exist in the iTunes or iCloud backup file, then despite nothing, you can't restore deleted iPhone notes.
Don't Make Create and Save News Files on iPhone
Failing to recover deleted notes due to no iCloud or iTunes backups can leave you frustrated and hopeless. However, there is still one last quick resort left to retrieving deleted notes directly from the iPhone data.
This method has probably left you wondering, 'Is that possible to retrieve the permanently deleted notes on iPhone? While this may sound insane, the answer is Yes!
When a user deletes any data on any iOS device, the data isn't deleted. Instead, they are kept in a category inside the folder menu. The category is named "Unallocated," where the deleted files are stored. However, as new data and files are created and occupy the space in your iOS device, the deleted notes and files on this folder are deleted permanently.
Hence, once you realize you have some missing notes and failed to restore a backup, stop creating and saving new data on your iPhone to prevent permanent data loss.
Many iPhone data recovery software is available to help you in this process. You can use these third-party data recovery apps to recover deleted notes.
3 Ways to Recover Deleted Notes on iPhone
After trying the above methods, if you've failed to recover deleted files, you can also try the below-described methods.
Find deleted notes from the iCloud backup
Recover deleted notes through Email
Recover deleted iPhone notes via iTunes backup

Find Deleted Notes From the iCloud Backup
There comes a time even when the "Recently Deleted Folder" disappoints you as well, leaving you amid hopelessness. Even though this folder has a 30-day recovery duration limit, it's only applicable if you accidentally delete a few notes. A third-party data recovery tool is the safest option if you have a chunk of missing notes to recover.
And what's a better data recovery tool for the iOS device than the iCloud backup?
If your iPhone data is linked to an authorized iCloud, there is a serendipitous moment when any lost notes can be restored. The important thing is to ensure your existing data is regularly backed up from your iPhone to your iCloud.
The steps below demonstrate how to link the iPhone data to an iCloud account if you haven't done that already.
From the homes screen, Go to Settings App
Click on the Profile present at the top of the Settings page
Select the "iCloud"
Scroll down and click on the Notes app
There will be a button slide right next to the Notes logo; if it appears to be grey, toggle it to the right to start the notes file backup
Now that your notes are backed up, restoring deleted notes is the next step. The steps include:
Whether you're using iPhone, iPad, or Mac computer, go to the iCloud.com
Log in to your account and open the Notes App
See if the notes you are looking for are in this list
Go back to the Settings app of your iPhone
Tap on your Profile and select iCloud
Again, make sure the backup for the Notes is turned on
Once done, open the Notes app to see whether your multiple notes are restored or not
Recover Deleted Notes through Email Account
There might be a possibility that, over time, you have changed note settings for more personalization. This could, in rare situations, result in missing data.
For example, you may have changed the email address in your iPhone settings, which has caused iPhone notes to disappear.
If you are using a third-party email, such as Hotmail, Gmail, Yahoo, etc., to restore note attachments, don't forget to check the account settings of those emails.
It's imperative to make sure the email is linked to your iPhone, iPad, or any other iOS device, so your data doesn't get lost. It's a basic safe sight to prevent future failed data recovery.
The steps to recovering deleted notes on iPhone are:
Go to the Settings and tap on the Mail option
Enter Mail > select Accounts
Slide the toggle to the right side (next to the Notes)
Once it's turned on, go back to your notes app to see if recently deleted notes are restored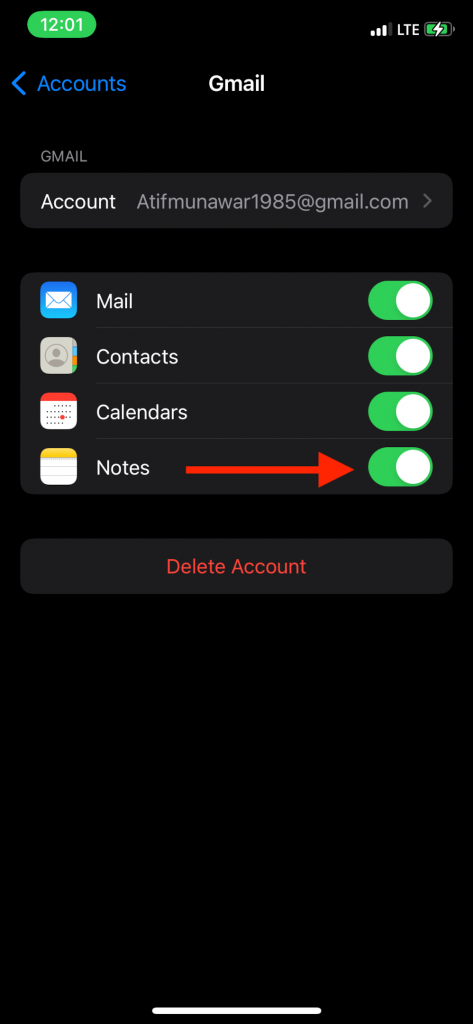 Recover Deleted Notes via iTunes Backup
If you've failed yet again to recover notes, the last attempt is iTunes backup. You can recover accidentally deleted notes from iTunes as well. Using iTunes backups to restore a deleted note will address the previous version of the iOS upgrade and replace it with an existing data backup.
Before you perform an iTunes backup, here are some essential things to keep in mind:
Restoring backup for iTunes should only be attempted if you're certain the recently deleted data were backed up.
If your restore iTunes backup, it will overwrite and occupy the current data, files, settings, etc. on your iPhone
The ongoing process of restoring iTunes backup doesn't display its content, meaning you won't be able to know if the notes you're trying to restore are present in it until the process is completed.
Here is how to restore the iTunes backup
Step # 01: Connect your iPhone, iPad, or any Apple device on the computer through a USB cable
Step # 02: Allow the desktop device to sync your iPhone data
Step # 03: Once the sync is completed, click on "Restore Backup" to restore your device to its previous iTunes backup
Final Verdict
Thousands of Apple users utilize the notes application to store their scattered but essential information, such as to-do lists, account credentials, daily schedules, etc. However, once in a blue moon, you might accidentally delete your notes or lose all your data due to various technical issues, including; failed jailbreak, restoring error, unsuccessful backup, etc.
No matter the reason, if you're faced with this problem, this article can help you. We have narrowed down some practical and effective ways to recover your notes.