Apple Inc is best known for launching high-end pieces of smart devices. From Apple iPhone SE to the latest iPhone 12 Pro Max, the Apple devices are designed to be resistant to minor software glitches and device malfunction. However, they are not entirely invulnerable to these technical issues.
A hard reset is among the commonly performed methods in an iPhone device regarding technical malfunction or system management. A hard reset, also called force restart, is an effective and sought-after solution for countless software-related issues that other procedures can not resolve.
Apple has modified the force restart method from the Apple iPhone 8 Plus release to the iPhone Xmax. These modifications have influenced the reboot process and made some changes to entering recovery mode, factory reset, and DFU mode.
This article explains technical errors and conditions where a hard reset can be your go-to solution. In addition, we will also explain how to perform force restart, factory reset, and hard reset iPhone 8 Plus.
When to Perform Hard Reset?
As an Apple device, it's common for iPhone 8 Plus to go into frozen screen mode or for specific apps to stop responding. But, as they say, desperate times call for desperate measures. After trying multiple ways, nothing works out – it's time to reset your iPhone 8 hard.
Here are some conditions where a hard reset for iPhone 8 and iPhone 8 Plus seems like the best solution:
Software update issues
Bluetooth connectivity problems
Swelling battery and overheating device (Most Common)
Frozen screen
Wireless data connection error
Wi-Fi connection difficulty
Unresponsive 3D touch
Disabled face ID
Poor RAM management
Visual voicemail difficulty
Airdrop issues
No Sim Card Connectivity
Things to Consider Before You Perform a Factory reset (Hard Reset)
Suppose you're faced with a frozen or blank screen, a particular app crashing or unresponsive, keypad, touchpad, face ID problems, or any of the abovementioned issues. In that case, you should opt for a factory reset. However, before you reset the device, here are some key things to consider.
Data Loss
Data loss is one of the biggest concerns after hard resetting your iPhone 8 Plus. Once you perform a hard reset or force reboot your iOS device, all of the content on your device is wiped out. After that, your device will be restored to its original factory settings.
Unlike soft reset, factory reset aims to force restart your device by removing all the internal storage of system and app data. In easy words, you will technically have a new iPhone.
A factory reset will reset network settings and app information, including:
iCloud information ( data stored such as passwords, email, accounts, etc.)
App data (including all the downloaded and default apps)
Network settings menu ( preferred settings)
Media (photos, videos, calendar, notes, browsing history, visual voicemail memos, contacts, music library)
Activation Lock
Power cycle methods like hard and soft reset, force restart, and reboot often turn on the Activation Lock. As a result, it becomes impossible to access your iOS device. Ensure the activation lock is disabled before your iPhone reboots through a reset.
To turn off the Activation Lock, log out of your iCloud account. Follow these steps:
Tap Settings app
Select your iCloud account
Scroll down to the bottom and click on Sign Out
To confirm signing out of your iCloud account, you will have to enter your Apple ID password
Once entered, proceed and click on Turn Off
Select the Sign Out option on the upper-right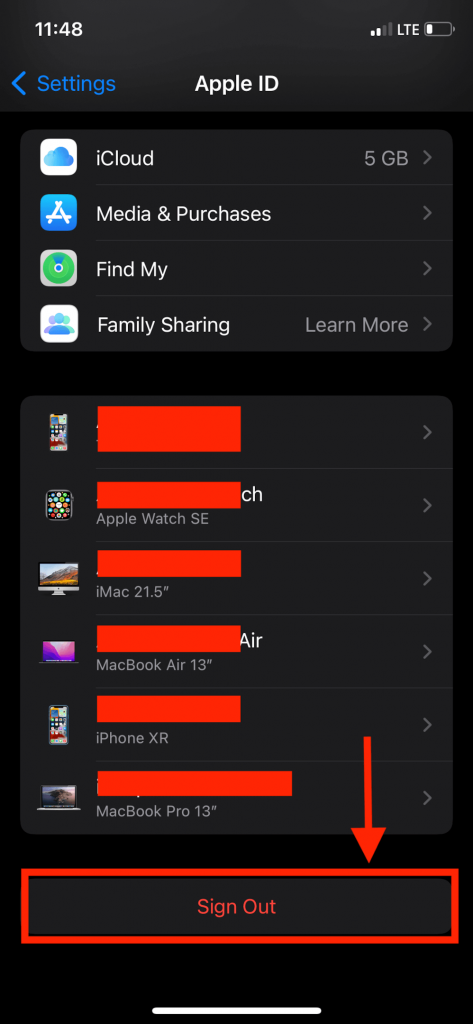 Moreover, if your Apple ID is signed in on any other Apple device (as a "trusted device"), you might be asked to enter the verification code upon reactivation.
Restart Your iPhone
Hard resetting your iPhone should only be considered after performing a soft reset. If the soft reset hasn't resolved your issue, consider examining any hardware error or failure, such as the swelled-up battery or wrong SIM card placement. A hard reset will restore settings and every data to its factory defaults.
Checklist for Factory Reset
To perform a force restart on your iPhone 8 Plus, it is essential to keep the following things done.
Backup data from your iPhone 8 Plus to restore personal data later (photos, contacts, videos, music, and other data)
Don't forget to create a backup of users and network settings on your iPhone 8 plus.
List down the frequently used and essential apps.
Add your favorite or customized snippets, widgets, and plugins to backup
Disable the iTunes authorization
How to Hard Reset Your iPhone 8 or Other Apple Devices
Before factory resetting your iPhone 8, remember that your device may slow down a little before being able to power cycle after a hard reset.
Here are two different methods to perform a hard reset on your iPhone 8 Plus or later.
Method # 01 Factory Reset through Button Combination
To force restart your iPhone 8 or iPhone 8 Plus, there is no need to touch the iPhone's home button. The home button in iPhone 8 and later isn't a physical button, so it doesn't make any difference. (This method only works on iPhone 8, 8 Plus, X, XR, XS, Max, 11, 11 Pro, Pro Max, and iPhone SE)
To hard reset your iPhone, you must follow this combination of volume and power buttons. Here's what you should do:
Press and quickly release the Volume Up button. The volume up button is present on the left side on the top edge
At the same time, Press and quickly release the volume down button (right below the volume up button)
Press and hold the Power button (also called the side button) present on the right side of your iPhone 8. Hold it for a few seconds
Keep holding the side button until the Apple logo appears on the home screen
Once your iPhone reboots, you must enter the device password to access it.
Method # 02 Reset Network Settings
You can use this method if any volume or power button doesn't work. The steps to perform a reset network settings include:
Click on the home button to land on the home screen
Go to the Settings app
Tap General section
In General, scroll to the bottom and tap the Reset iPhone option
To erase iPhone content, click on the dialogue bar "Erase All Settings and Content." to reset the device
Select "Erase iPhone Data Now" to confirm the factory reset
If you have any security code such as a device password, Apple ID password, Face ID, or fingerprint, you will have to enter them to complete the hard reset.
Once you see the Apple logo, wait for your device to turn on. When the iPhone 8 Plus is turned on, a slider says "Connect to the iTunes" on the home screen. If you have data stored in iCloud or iTunes backup, you can restore personal data by logging into your Apple account.
Lastly, All the factory defaults, emergency SOS features, customized settings, network settings, app data, and media are restored to the original version.
Alternate Method of Hard Reset
If you don't wish to perform a hard reset/factory reset, you can consider the following method
Soft Reset
A soft reset is a simple and effective way to force restart your iPhone 8 Plus if it has undergone any issues or errors, such as an unresponsive screen, connectivity bugs, update errors, etc.
Unlike hard reset, soft reset will close and give every app on your device a fresh start. This process restores every data and app in your iPhone 8 Plus. Moreover, since iPhone 8 has an immovable battery, a soft reset is done to spark a battery pull in case of unresponsiveness or freeze.
To restore iPhone to your preferred settings, press and quickly release the Up volume button.
Similarly, press and quickly release the Down volume button
Release the volume buttons
Press and hold the power button until a slider appears "Swipe to Turn Off."
Swipe the slider to consider iPhone 8 Plus to power cycle.
Wait for a while; once the home screen is blacked out, press and hold the power button until the Apple logo appears.
Conclusion
Many third-party apps, wireless network connections, user activity, and other aspects often stop working. The iPhone 8 Plus's inability to restore its regular operating system is commonly resolved through a hard reset.
A hard reset is a fancy word for a standard factory reset. It's a rebooting process in which the iOS user manually turns off the iPhone 8 Plus completely to refresh its operations.
However, under rare circumstances, any prolonged error or issue may prevent the device from restoring to its normal functioning. In that case, a master reset should be done. We hope this article has helped you!