Samsung Earbuds or Galaxy Buds Live are among the best true wireless earbuds, similar to Apple Airpods, and meet the standard of highest quality headphones.
Therefore, if you aren't interested in buying AirPods, then investing in Galaxy Buds is probably a better option.
For those of you who are religious users of an Android device, connecting Galaxy Buds to smartphones and tablets wouldn't be a problem at all. However, you may find it difficult when connecting Samsung Earbuds to a MacBook Air or MacBook Pro.
So, if you're looking for a few tips to connect Galaxy Buds to MacBook effortlessly, we have you covered.
Everything to Know About Samsung Galaxy Buds
You might think that connecting Samsung Buds to MacBook is a very long process. But contrary to what you believe, all you must do is turn on Bluetooth on both devices and go into pairing mode.
Therefore, you can connect Galaxy Buds to iPad, iPhones, laptops, and Android devices.
While it's true that every company ensures an effortless process to connect a range of their devices, for instance, it will hardly take a second if you wish to connect the Galaxy Buds to a Samsung Galaxy phone.
Similarly, suppose you connect AirPods to MacBook or an iPhone. Again, both devices will automatically detect each other, and you will enjoy far more features than when connecting AirPods to a galaxy device.
But still, connecting Samsung Galaxy Buds to MacBook isn't that difficult. It sure will take some time, and the two have no automatic detection. But you can have an impeccable experience connecting both these devices.
Why Choose Galaxy Buds?
If you are a dedicated Samsung Galaxy user, then there is no chance you will ever use a device that is not Android. The same can be said for people who are religious Apple users.
But that doesn't mean one is better than the other. On the contrary, both brands offer some incredible features. We are here to discuss why you should buy Galaxy Buds as your following wireless headphones.
Whether you're buying Galaxy Buds Live or Galaxy Buds Pro, both have incredible features to offer. These Bluetooth earbuds have an impeccable battery life
The dual microphone array in Galaxy Buds offers impeccable voice clarity and ensures smooth audio conferences.
The Galaxy Buds also feature noise cancellation to reduce background noise while on a call or listening to your favorite music
These earbuds support AAC Bluetooth codec, so you can conveniently pair them with MacBook Pro or Air.
Galaxy Buds also features wireless charging and have a USB-C charging input for absolute convenience
Overall, the Bluetooth connectivity in Galaxy Buds is solid enough to be easily connected to nearby devices.
It will hardly take a few seconds to detect. Once the device pairs with your laptop, smartphone, or other devices, click connect in settings and start listening to your favorite music.
Can You Connect Samsung Galaxy Buds to a MacBook?
You can connect all the Samsung Earbuds and Galaxy Buds to MacBook Air or MacBook Pro via simple Bluetooth accessibility.
In addition, you can try connecting these true wireless earbuds to any other device regardless of its operating system.
But if you want to pair Galaxy Buds to Mac, you first have to switch on the Galaxy Buds. Once the Galaxy Buds appear on your MacBook, you must go to System Preferences, click Bluetooth, then click Galaxy Buds, and your earbuds shall connect.
How to Connect Galaxy Buds to MacBook?
Before discussing how to connect Galaxy Buds to MacBook, you need to learn how to pair Galaxy Buds to MacBook.
If you connect Galaxy Buds Live or Galaxy Buds Pro for the first time to a MacBook Pro or iMac, you must first start pairing Galaxy Buds to the device to move forward with connectivity.
Follow these steps to initiate the pairing process
Go to System Preferences, select Bluetooth settings, and turn Bluetooth on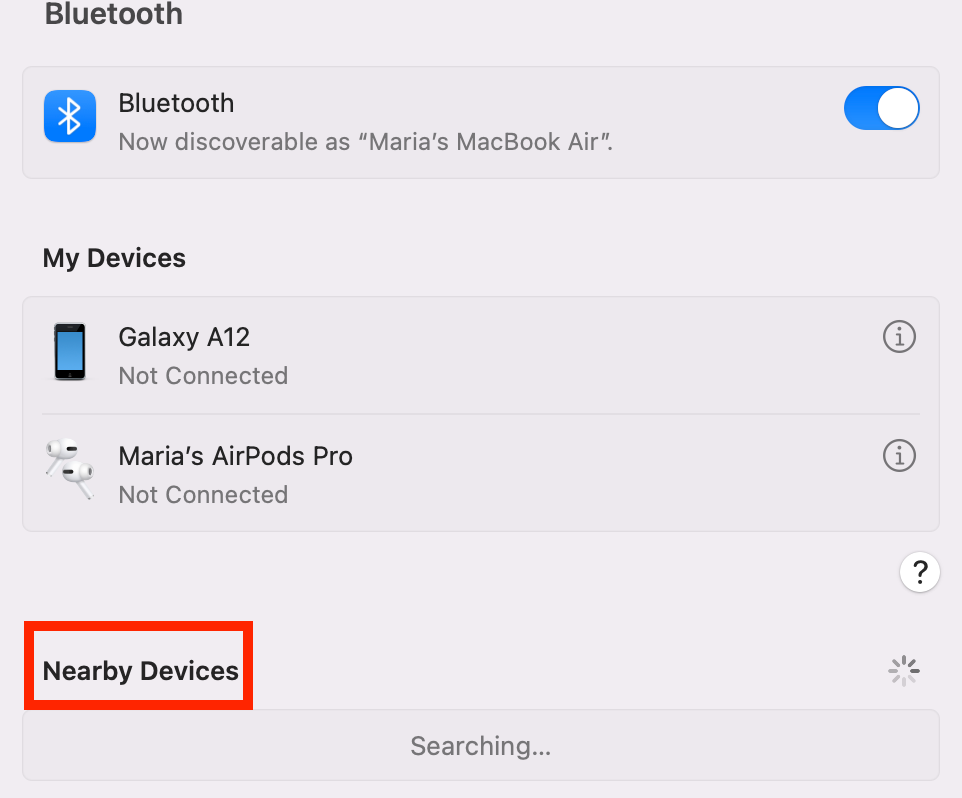 Close the Galaxy Buds (Galaxy Buds Pro, Live, Buds+) case for 10 seconds, then open the lid. It should automatically enter Bluetooth pairing mode
Once you pair Galaxy Buds (Galaxy Buds Pro, Live, and Buds+) to MacBook, you can connect both devices using Bluetooth.
Return to your MacBook, open System Preferences, and click the Bluetooth icon. Click on the Galaxy Buds option when you find it, and your Mac shall connect to the Galaxy Buds.
Galaxy Buds Aren't Connecting to MacBook – Troubleshoot
There can be several reasons why you can't connect Galaxy Buds to your MacBook Air or MacBook Pro.
Here are a few troubleshooting tips that may help you find a solution and connect the Galaxy Buds to your Mac.
Ensure that Galaxy Buds aren't connected to another device simultaneously while trying to connect it to Mac.
Galaxy Buds are wireless earbuds that cannot be connected to multiple devices simultaneously. So double-check this before connecting again.
Another reason your Galaxy Buds aren't connecting to your Mac is that they could be out of charge.
These earbuds support wireless charging as well as wired charging. So, recharge them for 20-30 minutes and try to connect them again.
There could be a great chance that your MacBook Air or MacBook Pro's Bluetooth is showing issues. In that case, you need to disconnect Galaxy Buds and try connecting AirPods to Mac.
If it connects, try to connect Galaxy Buds again, which should work. If it doesn't, there is something wrong with your Galaxy Buds.
Also, if you want to check whether your Galaxy Buds are working efficiently or not, you can try connecting them to another Bluetooth device.
You can reconnect it with an Android device; if it connects, you should probably contact the Apple support team.
Final Verdict
So, as you have read, connecting Galaxy Buds to MacBook Pro or MacBook Air isn't that big of a deal. The process is pretty simple, and you can follow some very effortless steps once the device has been paired.
You must go to the device's settings to turn the Bluetooth on.
However, Galaxy Buds efficiently detect nearby devices and will not even trouble you.
Connect it to Mac easily and enjoy your favorite shows or movies even while you're sitting at a coffee shop.
Just because these devices have different operating systems doesn't necessarily mean they cannot be connected.
On the contrary, manufacturers have started to ensure maximum functionality for Bluetooth devices to make things easier and far more convenient for users.