Group messaging makes it convenient for everyone to share information. And giving a name to a group chat makes communication even more accessible.
If you are an iPhone user, the good news is that iPhone makes participating in large group messages convenient. So now you can enjoy being a part of an extensive social network and communicating with many people simultaneously by being a part of a group text.
However, if you have many groups and overlapping participants, it can become tough to distinguish between them. You can easily send the wrong message to the wrong chat and regret it later. You should be able to know which message thread you are using at a glance.
So to ensure that such mistakes don't happen and make messaging on multiple group chats easy for you, you can give each group a unique name. This seems like a pretty straightforward task. However, there are some hidden features that many iPhone users are unaware of.
Thus many iPhone users don't take advantage of the numerous Apple device option available— particularly when giving a custom name to group messaging. To keep it all straight and make it easier for you to tell group text messages apart, we have broken down the process of giving group names in the different iOS message apps. The instructions in this article don't cover Android devices.
Things to Know Before Deciding on a Group Name
Before we dive into the different apps and step to name a group text in an individual message app, let us give you three essential pieces of advice. Remember these before giving your group chat a custom name :
MMS and SMS group messages are not included: You cannot give every group chat a name. This is available for most apps but not group MMS messages and SMS text conversations. You can provide the name for group iMessage, not MMS.
No Android user: Group chats can only be given customized names if they consist of iOS participants. If someone uses an Android device or any other service to contact the group, you will not be able to name a group chat. In other words, all participants must be using an Apple device such as an iPhone, Mac, or iPad.
Everyone Can See: Remember, when you name a group text or update, it can be seen by every member. So not only will the name be visible, but who changed is also shown in the text group. This means you should only name a group text appropriately, as its change can be traced back to you. In other words, don't use words like "Stinky, Weirdo, or other offensive words in your messages app.
Best Ways to Name Group Text on iPhone
As mentioned above, you can find text threads easily if you know how to name a group chat on your iPhone. So here are the steps to name a group conversation on an Apple device: (not for android phones)
Naming a new group iMessages:
Open your Message app.
Press the paper and pencil icon to start a new group message.
Type the contact names you wish to add (you should select at least two contacts)
Send your first group text. 
Tap the tiny arrow on top of the screen next to the number of people in your group.
Select Info Icon
Tap Change Name and Photo. (If there is no option provided, it means that a group member is not using iMessage)
Enter the name you like
Press done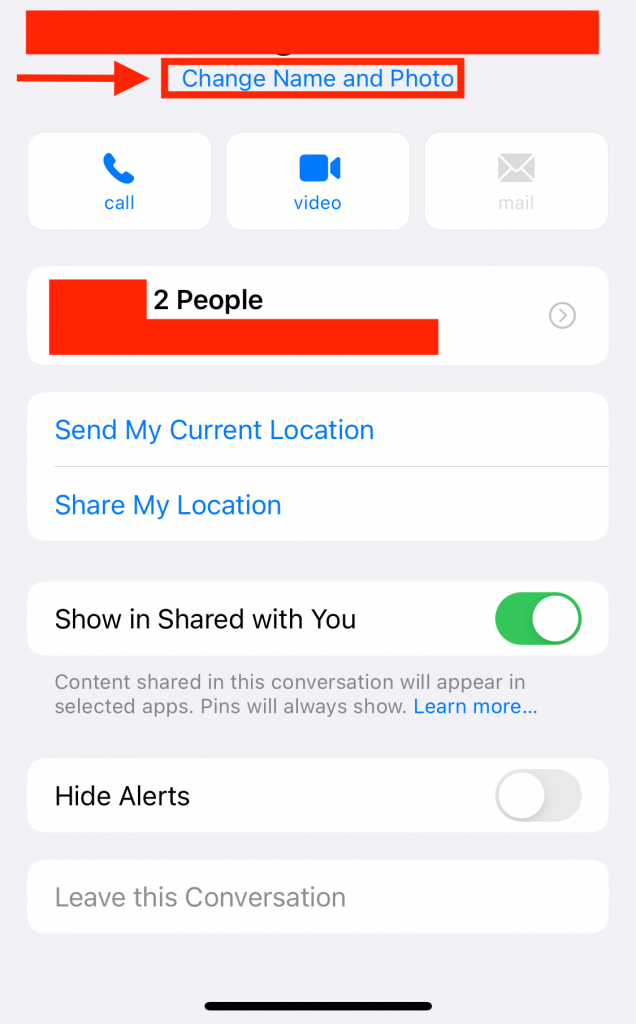 Note: once changed, the group chat names can be at the top of the group iMessage conversation. All the participants can see who created the group chat on the iPhone and how they named it.
Changing Naming of an Old group:
Naming an already established group is one of the easiest things to do. By default, all the contacts taking part in the conversation are included in the group details. If any participating parties aren't listed in your contacts, their number will be shown instead. Below are the steps to rename your group texting:
Open Messages
Tap the group you want to update the name of.
Tap Info Icon.
Tap Change Name and Photo.
Change the group name and tap Done.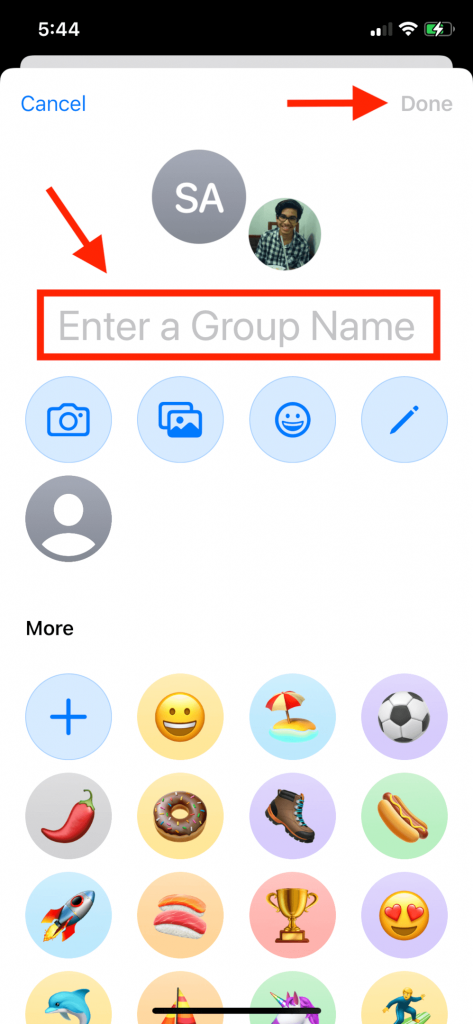 Once the change is updated, a message will pop at the bottom of the chat saying, 'You named the conversation "xxxxxx."
Options Available for naming Group Texts
Did you know that not only can you change the name of the group iMessage, but you can also take a picture or select a custom image and use it as your group icon? The steps to place the image as a message icon are the same as above.
Moreover, there is no restriction on selecting group chat names. You can choose anything and everything under the sun. Don't be offensive, as there are multiple people. So if they don't like your change, they can also rename the group. Name the group according to the purpose to keep it relevant. Some familiar names are 'Friends forever, 'Family is love,' "School Project Group," etc.
You can change group chat names as many times as you want. There are no penalties and no time limit. But we won't recommend it as there is no point in doing so. Furthermore, it will become difficult for the participant to remember the change.
Lastly, You can use Siri to send a new message to the group. By saying, "Hey Siri, message [group name]," you can send messages directly. It works similarly to sending messages to a single person.
Naming a Facebook Group Message on iPhone
Even though SMS and group MMS messages can't be renamed, Facebook Messenger chats can be renamed similarly to iMessage.
Here are the steps to change the group chat name in the Facebook messenger app:
Open the Messenger app.
Choose the chat you want to rename.
Select Edit.
Select Change Chat Name.
Enter the new name
And tap, Okay.
Naming a Facebook Group Message serves a similar purpose to renaming chats on your phone:
Final note
Giving a group message a custom name is straightforward and requires only a few seconds. It will help you remember who is involved in which group text thread and what the group conversation relates to. by making the group chat name memorable, you can make it easier for all the members to remember it.
So what are you waiting for? Take out your iPhone now, and with just a few taps, change the names of your groups into something funny, formal, or fashionable. PS; Stay tuned for more daily tips