A GPS is a must-have feature for any phone. In this era, our lives are more manageable than in past generations. When we have all the facilities, we will avail these to the fullest. A GPS is one such facility.
A GPS enables us to find things, places, and people. We are so used to using GPS that it is necessary now. But what will you do when you find your iPhone GPS not working? It is undoubtedly an issue.
Features of your iPhone GPS
An iPhone GPS is full of unique features. These features make it so important for your iPhone. Moreover, it is impossible to survive without a GPS these days. It is because people rely so much on GPS. Apart from this, your GPS misleading you is another headache.
Let us look at why GPS is so important and our options for an iPhone GPS not working.
What services does an iPhone GPS provide?
An iPhone GPS can offer you many things. You don't even realize the importance of your GPS unless it stops working. Here is what it can do,
It offers location services to you. You can share your location with those around you. And, they can do likewise.
Many apps need a GPS, like the Google maps app.
You can track anyone through your iPhone GPS. For example, you can track your online orders through GPS.
You can play online games with your friends through GPS.
A GPS provides you with accurate time. Before this, we all had to set times on our phones, which was such a headache.
You can travel from one place to another using GPS. It can lead you to an accurate destination.
How do you know about your GPS not working?
A no GPS signal is an obvious sign of your iPhone GPS not working. Nevertheless, there are other signs too. What are these?
Your GPS is not working when it fails to update your iPhone location. For example, it is not working when the compass points in the wrong direction.
Your GPS fails when it provides you with erroneous data. Lastly, apps are unable to find your location. All of these are clear indications of your GPS signal not working.
It would help if you looked into this matter. It's a good thing that you landed on this article. We can help you find your fix.
Fix iPhone GPS through the following ways
There are many solutions to fix iPhone GPS. The most standard issue that we face is a switched-off GPS. A GPS not working is because you did not enable location services. So firstly, we will make sure our location services are on. Then, we will proceed with other solutions.
Switch on your location services
To enable location services, you must go to settings. After that, you must find the privacy option. Tap on it, and you will see the location services.
Open the location services. If it is grey, it means your location is off. Therefore, turn on the toggle, and it will turn green. Green means that your location services are working.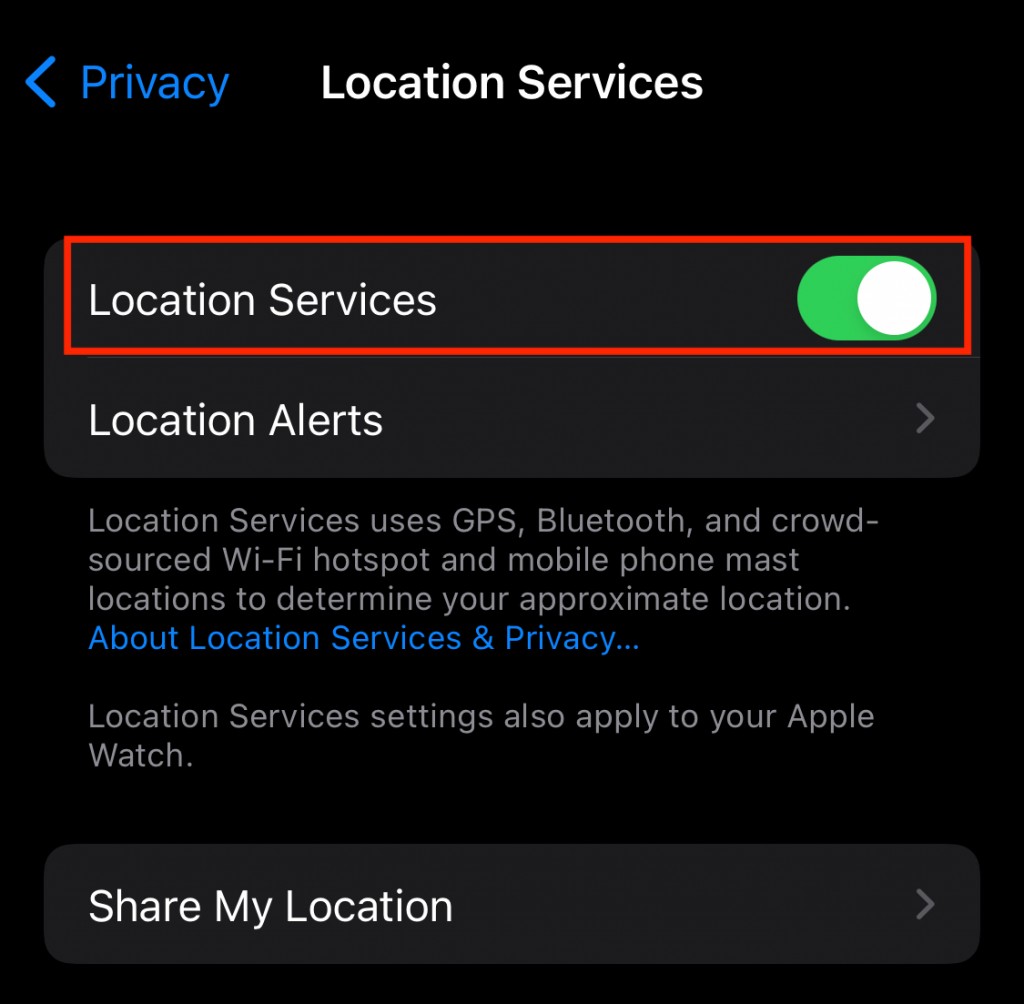 Reset your location services
To reset location services means to turn it off and then turn it on. It is just like restarting your phone. The problem could be in your location settings. Therefore, it is crucial to suspect location problems while addressing GPS not working.
When your phone hangs, we restart it, and it starts working. Similarly, go to settings, tap reset location & privacy. It usually starts working after a reset location.
Reset your airplane mode
Airplane mode can help with your GPS problem. Many times resetting your airplane mode can fix your iPhone GPS issues.
Go to your iPhone settings.
Move on to airplane mode.
Now, you can enable airplane mode.
Wait for a few seconds.
Turn it back off.
Turning on airplane mode can temporarily disable location services. It turns off your WI FI network, iPhone location, and GPS. Turning it off will kickstart these features, and they will start working.
Use all your battery
Some people suggest that using all your charging can fix GPS. It is effortless. Use all the apps and drain your iPhone battery. It will turn zero, and your phone will switch off automatically.
Now, charge it fully and turn on your phone. By doing so, your phone is likely to have fixed the iPhone GPS problems.
Update your applications
Many iPhone users do not update their GPS apps (apps that use the GPS functionality of the phone). It could be the primary reason for your iPhone GPS not working.
For example, you want to search for a restaurant through the maps. But, your maps cannot be found because the maps app is not updated.
Therefore, it can be a problem with your applications and not the iPhone GPS.
Update your software
Every iPhone user should install software updates. A software update can fix bugs and helps your iPhone work better. However, software updates take time, so make sure your battery is full. If not, connect it to a power source.
Go to settings and look for software updates. You will see the status of your phone.
It will show if your phone is up-to-date or if new updates are available. Click on to install updates and wait for your phone to install it.
Updates can fix many issues on your phone, including the GPS issue.
Why is my GPS not working after a system update?
Many people complain that their GPS stops working after an iOS update. Why is it so? Your iPhone may need some time to settle before functioning fully.
It would help if you waited a few hours before obsessing over your iPhone GPS problem. But unfortunately, it is usual for iPhones to take some time after an update installation.
What if it doesn't work after a few hours?
It is a common problem for iPhone 6 users. They often complain that their iPhone GPS doesn't work after a system update.
The solution is to downgrade the iOS. Yes, this is the only solution for you. This down gradation can help you to keep things running. The GPS goes back to normal after this down gradation.
Reset Network settings
Another reason for your iPhone GPS not working could be your altered network settings. Any malfunction in your iPhone can cause GPS problems. The best way to fix iPhone GPS is to reset network settings. It is common among IOS problems.
How can you reset network settings?
First, go to settings and open the general settings.
Second, Tap and reset network settings.
Your iPhone will ask for your password to confirm that it is you. And, done.
Fix iPhone GPS not working through the repair tool
Data loss is frequent when you face such issues. In addition, when you reset network settings, you lose other settings.
You can soft reset iPhone, but it also has chances of data loss. What should we do?
In such cases, you need an IOS system repair tool. These tools can find your problem and fix iPhone GPS issues.
Download the repair tool
Your first step is downloading your repair tool and installing it on your iPhone.
Select system repair
Your tool will have an option of system repair. Open this and connect your iPhone to your computer.
Select standard mode
You must proceed with the standard mode. Advanced mode is not necessary for this issue.
Download firmware
Download the firmware you find compatible with your iPhone device.
Click on the fix now
You will see an option of a fix now. You must click on it, and the system will run to fix iPhone GPS.
Reset factory settings
You can also try to reset factory settings for your iPhone GPS not working. You can also soft reset the iPhone for the GPS not working.
The only disadvantage of factory resetting is complete data loss. However, if you are willing to sacrifice, you may proceed. You can also try restoring your GPS not working with your iPhone in DFU mode.
Go to the Apple Store
Your last resort is to take your iOS device to the Apple Store. The professional can help you fix your iPhone GPS in no time. However, it will cost you money.
Final thoughts
I have suggested to you ten ways to fix iPhone GPS. But, of course, the solutions depend on your problem. Your problem can be in the GPS, the app, or the IOS system.
Our goal is to pick up the problem and correct it. Unfortunately, your GPS not working can put hurdles in your daily activities. We are so used to traveling through GPS that we cannot survive without it.
Try using these fixes and if it doesn't work, seek professional help. Go to Apple support, and they will help you.